Fast food networks play such a sustainable part in our societal development. According to FOXBusiness, fast food service provides meals to 50 million people everyday. Many rely on fast food for their fast, cheap, and filling ministration. With such a significant impact on our societal structure, you would hope that most, or even all, care for going green. We do not live in a perfect world, and restaurants are making minimal efforts to transition to a greener future. One fast-food chain that is dominating and setting an example as a green fast-food chain is A&W. In the past 5 to 10 years, A&W has accomplished a lot, such as becoming the first fast food with a plant-based diet and providing environmentally friendly articles.
Waste
Restaurants go through an abundance of food waste daily, but unlike others, A&W ensures that that won't happen. Back in 2016, A&W teamed up with the notorious National Zero Waste Council, well known for teaming up with governments, businesses, and non-governmental organizations to reduce waste in Canada. NZWC (National Zero Waste Council) helps the fast-food chain create large food donations, green packaging and green product designs, and also compost management with the waste acquired daily.
Packaging
A&W serves around more than 133 million customers annually, sending away millions and millions of packaging away with those people. Luckily for us, the people who run A&W thought of everything. Ordering from the breakfast option or any of their plated meals will now be served on a real ceramic plate with stainless steel cutlery. Because of this big switch, from paper plates and plastic cutlery to less harmful material, 121 000 kilograms of waste is saved each year. They've also created an ergonomic and green coffee sleeve. This sleeve design allows you, the customer, to keep safe from the heat of the coffee while also reducing the waste production. Comparably to their old sleeve design, the smaller and more compact design allows A&W to ship 28% fewer pallets per year as part of their carbon footprint reduction. If you were to hear A&W, you would most likely think rootbeer. They are infamously known for their rootbeer floats and their engagement on rootbeer day. You might've noticed their conversion towards glass floats rather than plastic floats. Switching to this material rather than plastic allows A&W to save 148 000 kilograms of waste and landfills which is saving more than 4 300 trees annually.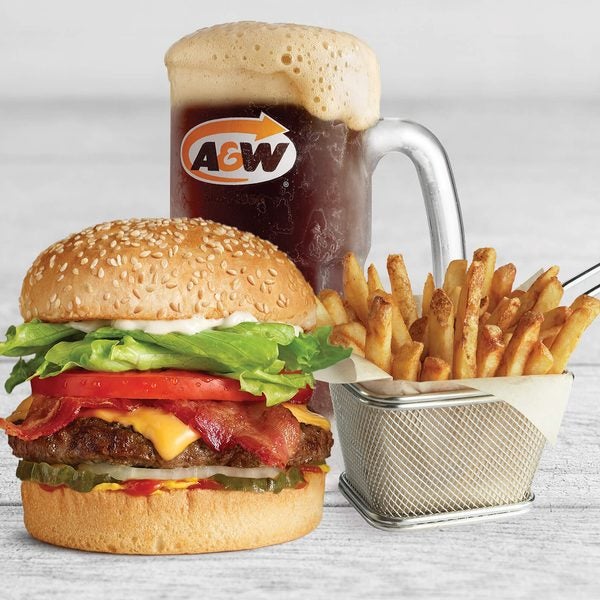 Energy
Energy can be a lethal weapon against our environment. The best green option would be to use a renewable source of energy. A&W solely relies on 100% renewable natural gas, created by their waste. They create biogas from their agricultural waste, organic waste, and wastewater treatment facilities. They have won numerous awards for completing such achievements such as the FortisBC Efficiency in Action Award. This award highlights a business with a top-of-the-line energy-saving plan.
Food
A&W is committed to giving you the freshest of products from their farms. Their soil is maintained in a way to cater towards the environment but also freshness. A&W's farm, Church Brothers Farms, rotates produce grown on their land to keep soil nutrients rich and diverse in quality. If a product is deemed not garden-fresh, it is cut up and returned right back into the soil, enriching the ground for the next crop.
Fast-food chains have a bigger impact on society than you might've thought, catering to millions and millions of people daily. With such a big number of people using these services daily, it is with utmost importance that everyone plays their part to make sure our ecosystem doesn't get damaged by the poor waste management.
Source(s)
Fool.com. "9 Fast Food Stats That Will Blow Your Mind." Fox Business, 4 Dec. 2016, www.foxbusiness.com/markets/9-fast-food-stats-that-will-blow-your-mind.
A&W. "A&W Revenue Royalties Income Fund > Quick Facts." A&W, www.awincomefund.ca/aboutaw/facts#:%7E:text=A%26W%20serves%20more%20than%20133%20million%20customers%20annually. Accessed 31 May 2021.
A&W. "A&W." A&W, www.aw.ca/awhome.nsf/environment. Accessed 31 May 2021.